Download Dark Souls Bonfire (Pixel) Wallpaper Engine Free non-steam required.
What is Wallpaper Engine?

Wallpaper Engine Software allows you to use amazing live wallpapers on your computer desktop. You can choose from our site wallpaper engine best wallpapers that you like and easily make your desktop go live using this amazing software. Read: What is Wallpaper Engine? The Complete Guide.

What Types of Wallpapers Supported?

Several types of wallpaper engine wallpapers are supported and ready to use, Including 3D and 2D animations, websites, videos and even some applications.

About Performance

Wallpaper Engine was delicately built to deliver you an entertaining experience while using the minimum system resources as possible. Multiple options available inside the software to adjust the quality and performance to make Wallpaper Engine fully compatible with your computer capacities.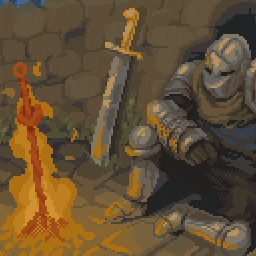 TITLE: Dark Souls Bonfire (Pixel)
STEAM: https://steamcommunity.com/sharedfiles/filedetails/?id=2325500626
FILE SIZE: 18.36 MB
DOWNLOADED: 24749
FAVORITED: 1342
Art is by Cannonbreed ( https://twitter.com/cannonbreed?lang=en )
Music is Nameless Song from Dark Souls.
Only other edit was adding a flame sound to the background.
I added the ability to adjust the audio as well.


For the properties I changed for myself:
Flipped the image and put
Contrast: 60
Saturation: 75
Think it looks pretty nice.
How To Use This Wallpaper

Download Wallpaper Engine Software Free.
Download this Wallpaper Engine theme.
Extract & copy the downloaded file to this destination: [Wallpaper Engine] > Projects > Default projects.
Need help? Read this Here.