Download Kaedehara Kazuha - Genshin Impact 4k Wallpaper Engine Free non-steam required.
What is Wallpaper Engine?

Wallpaper Engine Software allows you to use amazing live wallpapers on your computer desktop. You can choose from our site wallpaper engine best wallpapers that you like and easily make your desktop go live using this amazing software. Read: What is Wallpaper Engine? The Complete Guide.

What Types of Wallpapers Supported?

Several types of wallpaper engine wallpapers are supported and ready to use, Including 3D and 2D animations, websites, videos and even some applications.

About Performance

Wallpaper Engine was delicately built to deliver you an entertaining experience while using the minimum system resources as possible. Multiple options available inside the software to adjust the quality and performance to make Wallpaper Engine fully compatible with your computer capacities.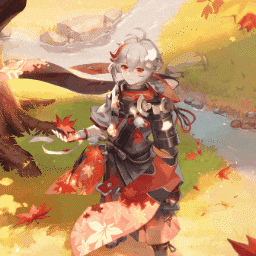 GIF recording/Screenshot of wallpaper as preview.

[u] [h1] [url=https://steamcommunity.com/id/drioyard/myworkshopfiles/?appid=431960] My Workshop[/url] [/h1] [/u]
[u] [h1] [url=https://steamcommunity.com/sharedfiles/filedetails/?id=2124383188] My approved wallpapers collection [/url] [/h1] [/u]
Artist : Couldn't find, please comment if known.
Artwork Source : https://wall.alphacoders.com/big.php?i=1156263
Music : Kaedehara Kazuha Teaser OST EXTENDED - Moonlit Breeze (tnbee mix) | Genshin Impact
Music Link : https://www.youtube.com/watch?v=yWXjqGoFAZM

Labels : Relaxing, Music, Fantasy, Game, Leaves, River, Water, Garyuu Bladework, Drioyard, Anime, Red Eyes, Warrior, Hidden Katana, Chihayaburu, Kazuha Slash, Soumon Swordsmanship, Poetics of Fuubutsu, Cloud Strider, Sun, Morning, Shade, Sunlight, Tree, Nature, Works well with Ganyu Mona Zhongli Diluc, Not well with Eula Noelle Ningguang, Moonlight Breeze, Wandering Winds, Free Spirit, 放松,音乐,幻想,游戏,树叶,落叶,河,水,千早,一羽斜线,相门剑术,风物诗,云黾,太阳,早晨,树荫,阳光,树,自然, 楓かえで原はら万かず葉は, 原神, 甘雨, 月光微风,游荡的风,自由的灵魂, 原げん神しん, 楓 かえで 原 はら 万 かず 葉 は

Disclaimer:
I am not the owner of the artworks used in my live wallpapers, I only animate them. All credits belong to the artists, any artists I could not find to credit and you are aware of, please comment on the wallpapers themselves.
How To Use This Wallpaper

Download Wallpaper Engine Software Free.
Download this Wallpaper Engine theme.
Extract & copy the downloaded file to this destination: [Wallpaper Engine] > Projects > Default projects.
Need help? Read this Here.