Download Star Wars - Storm [2560x1600] Wallpaper Engine Free non-steam required.
What is Wallpaper Engine?

Wallpaper Engine Software allows you to use amazing live wallpapers on your computer desktop. You can choose from our site wallpaper engine best wallpapers that you like and easily make your desktop go live using this amazing software. Read: What is Wallpaper Engine? The Complete Guide.

What Types of Wallpapers Supported?

Several types of wallpaper engine wallpapers are supported and ready to use, Including 3D and 2D animations, websites, videos and even some applications.

About Performance

Wallpaper Engine was delicately built to deliver you an entertaining experience while using the minimum system resources as possible. Multiple options available inside the software to adjust the quality and performance to make Wallpaper Engine fully compatible with your computer capacities.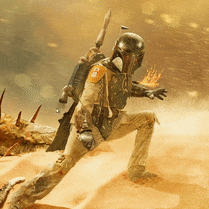 TITLE: Star Wars - Storm [2560x1600]
STEAM: https://steamcommunity.com/sharedfiles/filedetails/?id=1087411547
FILE SIZE: 20.55 MB
DOWNLOADED: 25989
FAVORITED: 672
This one took awhile, a Star Wars Boba Fett wallpaper with a lot of different effects, sand particle effects on the ground in combination with moving ground to simulate a sandstorm in an arid environment.
Animated background to further strengthen the image of a sandstorm, also fire effects on tentacles and on the weapon.

The quality of the GIF does not showcase the real quality of the wallpaper.


Enjoy!
How To Use This Wallpaper

Download Wallpaper Engine Software Free.
Download this Wallpaper Engine theme.
Extract & copy the downloaded file to this destination: [Wallpaper Engine] > Projects > Default projects.
Need help? Read this Here.